Another Judd Apatow film hits the big screen. His previous films were known for their raunchy crudeness and their hilarity: 40 year Old Virgin, Knocked Up, Pineapple Express, and about a dozen others film's he has produced since being Adam Sandler's roommate early in their comedic careers.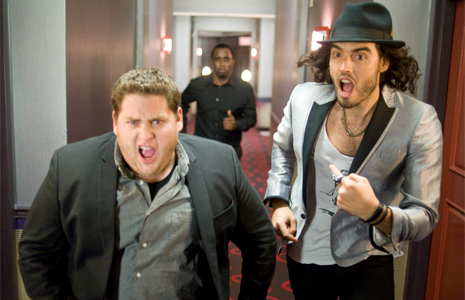 Get Him to The Greek is no different, it is irreverent, over-the-top raunchy and belly-splitting funny.
Russell Brand reprises his role as Aldous Snow from Apatow's 2008 film Forgetting Sarah Marshall and is spot-on in recreating the great role of the wild, yet sensitive rock star. Jonah Hill plays his straight man and sidekick, who is given the tough task of getting Snow to a concert on time. Hill has been several Apatow films, including Superbad, Funny People and also Forgetting Sarah Marshall (although he is playing a different character in Get Him to the Greek.)
So let me first say that if Mom and Dad are reading this – do NOT go to this movie. You will NOT like it. However, if you have looser morals then my parents and can laugh at a movie that is wall-to-wall about sex, drugs and rock-n-roll, then go for it. You will laugh out loud, a lot.
Posted on
June 23rd, 2010
under
Movies
by Zenweezil