Every sip of cow's milk contains at least 59 different bioactive hormones. The genetically-modified milk we give our children contains growth hormones that are increasingly being linked to cancer growth and development as well as other serious health issues.
The average American drinks 22 gallons of milk a year. And don't forget the 30 pounds of cheese and 17 pounds of ice cream we eat each year – which contains another 60 gallons of milk. So we each consume about 82 gallons of milk a year – I believe it since in my house we already buy 2 gallons of milk a week, and love both cheese and ice cream (Erin helps us keep our ice cream average).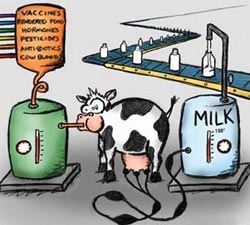 In 1994, the Food and Drug Administration (FDA) approved the use of the recombinant Bovine Growth Hormone (rBGH). Injections of rBGH causes cows to produce up to 20 percent more milk. The growth hormone also stimulates the liver to increase Insulin-like Growth Factor 1 (IGF-1) levels in the milk by as much as 80%.
So why is IGF-1 so dangerous? Because by a freak of nature it is identical in cows and humans. This hormone has been found to be a key factor in the rapid growth and proliferation of breast, prostate and colon cancers.
So being a father of two girls it seems particularly disurbing, as IGF-1 is the only hormone known to make breast cancer grow once you have it. But also, research suggests that all those hormones are making young girls mature quicker and hit puberty younger.
As a little girl becomes a big girl, then a mature woman, she will naturally produce in her lifetime the equivalent of only one tablespoon of estrogen. Hormones work on a nanomolecular lever, which means that it takes only a billionth of a gram to produce a powerful biological effect. Should little girls be encouraged to pop estrogen, progesterone, and prolactin pills each day? If they drink cow's milk, that is just what they are doing. If they eat cheese and ice cream, they ingest concentrated forms of these hormones.
Source: health101.org
European nations and Canada have banned rBGH to protect citizens from IGF-1 hazards. And I think our household will be following their lead and buying milk that is clearly labeled "NO rBGH" for now on. Also, buying European cheeses where rBGH milk is banned. In fact, we might make a harder push to buy much more organic everything! I know it will make our grocery bills go up significantly, but I think of it as preventative medicine for my daughters to avoid serious health issues. I'll gladly pay today to avoid a tragedy someday.
But I also think we may need to reconsider our milk intake all together, because the more I look into it the more issues I see with milk. Is it possible we have been sold a myth about the healthfulness of milk? Why do only humans (and a minority at that) continue to drink milk in adulthood? How did we survive all those centuries before pasteurization and refrigeration which allows us to have milk?
"It's not natural for humans to drink cow's milk. Humans milk is for humans. Cow's milk is for calves. You have no more need of cow's milk than you do rats milk, horses milk or elephant's milk. Cow's milk is a high fat fluid exquisitely designed to turn a 65 lb baby calf into a 400 lb cow. That's what cow's milk is for!" — Dr Michael Klaper MD
Now that we have talked about the hormones found in all milk (regular and organic), we can mention the scores allergens, fat and cholesterol. Most cow's milk has measurable quantities of herbicides, pesticides, dioxins (up to 200 times the safe levels), up to 52 powerful antibiotics (perhaps 53, with LS-50), blood (up to 1.5 million white blood cells per milliliter), pus (322 million cell-counts of pus per glass), feces, bacteria, viruses and traces of anything the cow ate.
Ugh, now even organic milk sounds nasty and I did not even go into HALF of the scary stuff I learned. Then again my uncle was a dairy farmer and he lived well into his 90s drinking milk right out of the vat with dead flies floating in it, so for now I am only going to worry about the growth hormones. Maybe it is even time to look into vegetal sources, like Almond or hemp milk? What's next tofu cheese? Yikes – what is fatherhood doing to me?!?