Today was race day – and I won! Well not really, Erin beat me – but I did finish first in my division (36-year-old bearded men wearing number 673).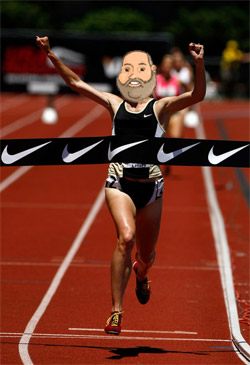 Seriously though, Erin and I finished together at around 34 minutes. She totally deserved to cross the finish line first since she did not walk any of the course, unlike me. My legs were so sore from running more in the last week than in the previous 10 years combined, that I was forced to walk on the uphill portions. But to my credit, I was able to then run and catch back up to Erin.
We felt pretty good about ourselves, until we looked up and saw an 8-month pregnant woman had finished before us. That is just showing off! Then we looked around and saw 10k runners finishing with the same time as us! A little embarrassing, but I made myself feel better by remembering all the people sitting on their porches drinking beer and watching us run by like a fitness freaks parade.
Luckily I did not need an ambulance and crossed the finish line while running, but I am not happy about having to walk some. (Not sure if I had stated my goals in previous posts – but not walking was probably the biggest goal – and I failed!) So, I really want to keep up my not-so-rigorous training regiment and get a do-over next year. Heck, if I keep improving maybe I will do the 10k next year instead.
SPECIAL SHOUT OUT to Nick and Jessica for running the race with us today! We are so glad you were able to find us amongst the 1,000+ people at the starting line!