Remember mix tapes? So awesome. I can not even count how many of those I made in my youth, I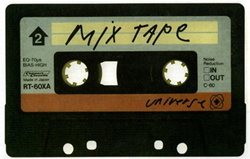 remember I would always listen to Casey Kasem count down the Top 40 and I would record my favorite songs when they came on – so that is at least 1 new  mix tape a week! Now I am not saying that CDs and MP3 are not huge improvements – they clearly are, I mean geez do you know how much time I wasted rewinding and fast-forwarding?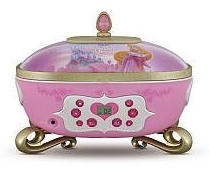 Anyways, Ella got a pink princess CD player for Christmas, which is great because she loves to dance and insists on playing some music to do it. Of course, the poor klutz dropped it and broke the feet off it before she had even turned it on, but it still works fine and she loves it.
Instead of getting her all the kids music out there and subjecting ourselves to that special kind of ear-bleeding misery, I instead decided to let her make a mix CD from my MP3 music collection.
Ella was all about making her own mix, as I knew should would be since we already knew a couple songs she likes from our "Sing Along Songs" we play in the car.
So anyways, we sampled a lot of songs and these are the ones she chose for her first mix (pretty proud of her choices):
"It's Oh So Quiet" by Bjork
"Pump It" by Black Eyed Peas
"Sweet Dreams" by Eurythmics
"Gettin Jiggy Wit It" by Will Smith
"Crazy" by Gnarls Barkley
"It Had to Be You" by Harry Connick, Jr.
"Blackbird" by Sarah MaLachlan (Beatles song off the I Am Sam soundtrack, and Ella's all-time favorite song!)
"Say a Little Prayer For You" from My Best Friend's Wedding soundtrack
"Istanbul (Not Constantinople)" by They Might Be Giants
"My Sharona" by Knack
"Jungle Boogie" by Kool & the Gang
"What a Wonderful World" by Louis Armstrong
"Harder to Breathe" by Maroon 5
"E.I. (Must be the Money)" by Nelly
"You Can Call Me Al" by Paul Simon
"Get The Party Started" by Pink
"Soak Up The Sun" by Sheryl Crow
"Signed, Sealed, Delivered I'm Yours" by Stevie Wonder
"Stuck In The Middle With You" by Stealers Wheel (Another Ella favorite from our sing-along CD)
"The Safety Dance" by Men Without Hats
"Joy to the World" by Three Dog Night
"Drops of Jupiter" by Train
"Brown Eyed Girl" by Van Morrison (She likes to point out that her and mom are brown eyed girls)
What a mix, eh? Talk about spanning multiple decades and genres. I guess she will have an eclectic taste in music like her pops. I am already looking forward to making the next mix. To me it makes sense to let her pick and choose from my music rather than let current pop culture determine what she should like. It's just like how spending hours listening to all my dad's albums on vinyl shaped my tastes in music, just as much as current radio did.
Of course the plan is not perfect – when we had company over for New Year's Eve she insisted on playing her CD of Kid's Christmas Music instead of her fun mix CD that we can enjoy. She also is not sure exactly what to call the player since her mom refers to it as a "Boom Box" and her dad calls it a "Ghetto Blaster" – both sad reminders of our cassette tape pasts.