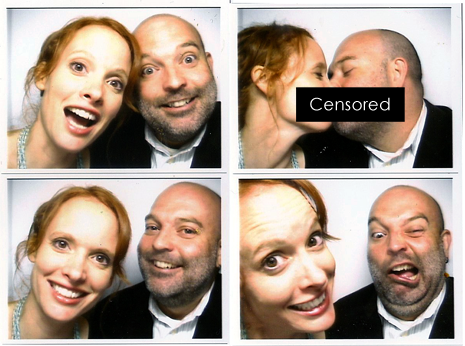 Today is our 7th Anniversary, its hard to believe our wedding was that long ago already! Last night, we went out to celebrate and had a really great time. We dressed up a little more than usual for our date night of dinner and a movie, so we wanted to get our picture taken. The photo booth at the theater was our only option, but I think its a pretty accurate portrait. It so nice to get out and not be rushed. Marriage and kids is a busy life, but its been a wonderful 7 years, not to mention the 7 carefree years before that when life was a bit simpler. Thanks for sticking with me, honey!
DINNER: We tried Baker Street finally and it was "awesome" – both the food and service were exceptional. I ordered Escargot appetizer in remembrance of the snails we ate on our honeymoon cruise. Their special was bacon-wrapped Mahi atop parmeasan risotto with grilled asparagus. Yum, it was to die for. We also ordered a bottle of wine I had been wanting to try – beaujolais-villages, it was delish. After dinner we enjoyed our complimentary chocolate cake.
MOVIE: We saw Contagion and now I am extremely paranoid of novel viruses, and want to move to the wilderness to avoid society's germs. Besides that, it was a pretty good flick – reminded me of Soderbergh's 2000 hit, Traffic.