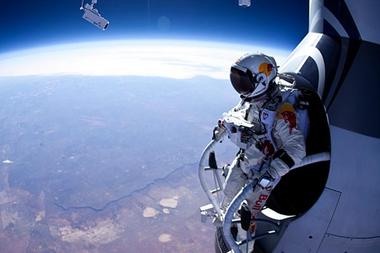 Photo By: Jay Nemeth/Red Bull Stratos/AP
During the first manned test flight for Red Bull Stratos, Felix Baumgartner jumped out over Roswell, New Mexico and landed safely 13 miles below, falling at speeds up to 364 mph.
Suprisingly this was not a new record, two previous jumps were from higher altitude:
US Air Force pilot Joseph Kittinger set a manned-balloon altitude record in 1961, then jumped from the balloon, which had reached 102,800 feet (19.46 miles!). In 1962, Russian Eugene Andreev completed a jump from 80,380 feet. Baumgartner's plunge on Thursday came at 71,581 feet (13.56 miles).
So how is he going to top that? By performing a 23-mile dive during which he would actually break the sound barrier! Check out this cool infographic about the jump: www.redbullstratos.com/the-mission/mission-timeline/