I only caught the last half of the 82nd Academy Awards show from a hotel room, but it seemed a success, especially in a year that was pretty easy to predict the winners – at least for all the big acting awards.
I had no doubt that Jeff Bridges, Sandra Bullock, Christopher Waltz and Mo'Nique were going to win their categories. The only other nominee that even had a chance was Meryl Streep who could win it almost every year and has been robbed more than once. (i.e. Gwyneth Paltrow winning for Shakespeare in Love over Streep's powerful role in One True Thing).
The big question I had going into the Oscars was if Avatar was going to take the big awards or if the better Hurt Locker would pull through to topple the box office behemoth. So congrats to the academy for seeing past the earning power and technical special-effect prowess of Avatar. Avatar wasn't a bad movie, but not deserving of Best Picture when compared to Hurt Locker or even Inglorious Basterds or my pet fave District 9.
I would have liked to see Quentin Tarantino win Best Director, but have no problem with Kathryn Bigelow winning for Hurt Locker, I guess Best Picture = Best Director,  but Tarantino really is amazing at what he does.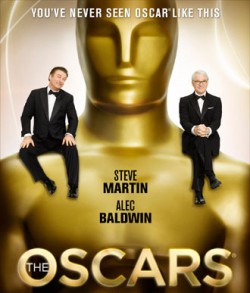 I love Steve Martin and Alec Baldwin, but you have to wonder what Sacha Baron Cohen would have done with the hosting gig, but I guess I can't blame the Academy for rejecting the idea. He's obviously a little too unpredictable and generally less likable then Martin/Baldwin. I found out later that Cohen was also set to take part in the Ben Stiller sketch about Avatar and would be dressed as a female Nu'vi and declare he was pregnant with James Cameron's baby, but he got cut off the show all together.
Overall the show didn't live up to the hype promised with the tagline "You've never seen Oscar like this!" In fact, it seemed very much the same as always, except the longer vignettes of the films which I enjoyed. And the expansion of nominees for Best Picture back to 10 like it was prior to 1944, even if some never had a real chance of winning.
The most memorable part of the show itself was the tribute to late writer and director John Hughes, who surprisingly did not receive a single Oscar honor in his lifetime.
I forgot how many good movies this guy was responsible for, the obvious 80s films come instantly to mind "Breakfast Club, "Sixteen Candles", "Pretty in Pink" and "Ferris Bueller's Day Off" – but don't forget these classics: "Weird Science", "Planes, Trains and Automobiles", "Mr. Mom", "She's Having a Baby", "Career Opportunities" and the "Vacation" movies. (Notice I didn't mention "Home Alone" and its gazillion sequels)
Bringing up the actors he made famous to say a few words was a nice touch – it was almost a complete Brat Pack reunion.
Hughes gift was clearly the ability to dive into the details of what it was like to be a teen and make it wholly relatable. John Cryer, who has had a rebirth with his hilarious role on "Two and a Half Men", may have said it best: "John (Hughes) created characters that were at once familiar, almost painfully ordinary, yet at the same time transcendent and iconic."
I did wonder who decided to have the Hughes memorial tribute, since it was the first telecast since 2005 to include a single tribute other then the annual In Memoriam segment. The 77th telecast had featured a memorial to Johnny Carson presented by host Chris Rock, and the prior year's ceremony featured memorials to Bob Hope and Katharine Hepburn presented by Tom Hanks and Julia Roberts. Why not Paul Newman last year?
Anyways, my favorite speech was Jeff Bridges, probably just because I dig him and the Dude so much. But I thought his speech about his folks was great, "Thank you, mom and dad, for turning me on to such a groovy profession."
Give Bullock some credit for being humble saying "Did I really earn this or did I just wear you all down?" (she really did show up for everything possibly in the months leading up to the Oscars.
The best speech, however, might have been for Best Short Animation, "Logorama" – which I am going to go right now and watch on YouTube here.
The French producer of the film that is composed almost entirely of brand logos said "… I have to thank the 3,000 non-official sponsors that appear in the film. And I have to assure them that no logos were harmed in the making of the project." (yeah right, I'm pretty sure there are more than a few irate brand managers out there, but I'll save that for a later post)
And then he ended with "It took, like, six years to make this 16 minutes, so I hope to come back here with a long feature film, in about 36 years."
Posted on
March 17th, 2010
under
Movies
by Zenweezil