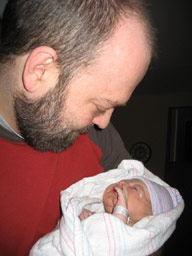 On March 19, 2007 my little Ella Ray was born. Things have never been the same.
It's so hard to believe she has been with us for 3 years already. Then again there are also times that I can't believe she is only 3! She acts so old at times and talks more like a 5 or 6 year old.
She already had her birthday party last weekend, her cousins (or "my friends" as Ella refers to them) came over and the party was a dress-up theme with princess dresses, doctor, cowboy and policeman outfits. Ella already owned a bunch of princess dresses and accessories, but we picked up the others so her boy cousins didn't have to wear dresses like they had been on previous visits.
As I type this post, I wish I had kept Ella home today for her birthday and just hung out with her all day. We have so much fun together. Like when we went to the movies together last night or to the basketball game the other day (see pic below). We really can hang out with each other and it is so much fun! I hope the day never comes where she doesn't want to kick it with her dad.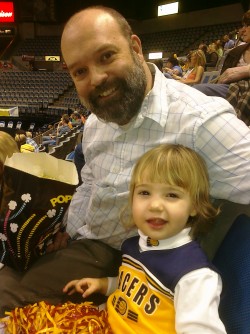 Two really sweet moments pop to mind just now: recently I was away for work for almost a week and returned on a Friday – the day I pick the girls up from daycare. When she saw me, she ran out the door to hug me and told me she missed me when I was away! And then just yesterday, we were all shuffling around the kitchen getting dinner out to the table and Ella suddenly hugged my legs and when I looked down at her she told me she loved me. How frigging sweet is that?!
Anyways, I am not sure what we will do tonight to celebrate as a family, we got her a few gifts, mostly doll house accessories and some cute outfits from the Disney store closing sale. But also I am going to give her the Sweet Pickles books I bought for her. I looked through them last night and have such fond memories of them, I hope she likes them even half as much as I did.
Happy Birthday stinky butt!

Posted on
March 19th, 2010
under
Fatherhood
by Zenweezil