The wife and I got a rare night out last night. We dined on fajitas and margaritas at Agave's Mexican Grill, and then went to the Embassy Theater to watch Craig Ferguson perform.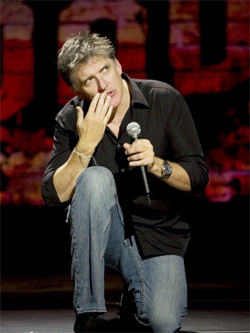 If you are not familiar with Craig Ferguson, you should be. Most people know him either from his 7 years as the goofy Mr. Wick on the Drew Carey show, or his current gig hosting the Late Late Show on CBS. But he is also a talented writer and actor, he wrote and starred in a great movie called Saving Grace.
Anyways, I think he is perhaps the funniest man in late night television these days. His show is very different and many nights it truly feels like the guests are having fun and just hanging out with Craig in a way you don't see in television interviews.
I was very excited he decided to come to our little town to entertain us. It was a really funny show, and his continual references to it being Vera Bradley bag night were hilarious!
My only regret is being the fools that sat in the wrong seats, had to move twice and accused another couple of sitting in our seats before realizing we were in the wrong row. Oh, well.
I am going to have to try to get my hands on one or both of Craig Ferguson books now, to see if his entertaining personality translates to the written word.
Posted on
April 30th, 2010
under
Whatever
by Zenweezil