Our furnace went out on us and its been an interesting adventure getting heat back in our house.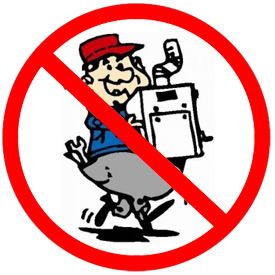 We clearly hired the wrong company  – GIbson's Heating and Plumbing. While all three guys they sent to our house were nice and professional, we never felt like we were being told the whole story and were just being squeezed for every penny they could get out of us. They charged $79 to just show up and look at the furnace, then we spent another $500 replacing a pressure switch which we later discovered they did not install correctly.
A week later the control board blew out, which they told us was a possibility so we knew right away that was the problem when it konked out in the middle of the night. But guess what? Gibson's charged another $79 to look at it and say "yup, the control board is bad." So this second representative from Gibson's quoted $650 to replace the control board and tacked on a few hundred more to clean the coils – where did that come from? The first guy didn't say anything about cleaning coils. Oh, and then the guy says that since the furnace is 12 years old it has basically reached the end of its life expectancy and we should consider getting a new furnace instead of sinking $900 into more repairs.
So now the red flags are flying and while we agree to have Gibson's quote us a new furnace we also set up an appointment with another company to get a second opinion on things. GIbsons shows up a third time and quotes us $3980 for a new furnace, ouch. At least they didn't charge us another $79 this visit.
Then our luck changed, because Pfeiffer Plumbing Heating & Air arrived and started telling us the truth. We discovered among other things that:
We overpaid Gibson's for everything
Not everyone charges a fee to just show up
The pressure switch was installed badly out of laziness (Pfeiffer's fixed for free)
The coils do not need cleaning
A few other misleading things Gibson's told us to try and sell their new furnace
And most importantly, there is no reason we could not replace the control board and get 3-8 more years out of our furnace.
So now we have our furnace back and life is back to normal. Oh, and he only charged us $300 for the new control board! He could have easily sold us his $2,400 new furnace, but instead was honest with us. Honesty really is the best customer service. We were so happy with him we came up with a couple other projects he can do for us, of course it helps that his prices on those were so fair.
Posted on
May 27th, 2010
under
Whatever
by Zenweezil