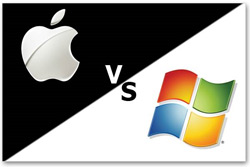 NPR was talking about this blog post where the writer shows how much he would have profited if he had bought Apple stock instead of their products over the years, it's brilliant.
However, the whole time I was listening to the story I was kicking myself knowing that I had been buying Microsoft stock all those years, if only I had bought Apple instead, I might be a rich man right now. All those years of buying MSFT stock thinking Bill Gates had another ace up his sleeve and I am only up a whopping $11. If I had bought Apple instead you could add a few zeroes to that, because while Microsoft stock is worth basically the same, Apple is worth 40 times what it was 7 years ago.
In related news today:
Apple has surpassed Microsoft as the largest technology company in the world by market capitalization.

Apple's move comes as the company's iPhone, and now its iPad tablet computer, have taken on more of the personal computing tasks once handled by computers running Microsoft's Windows operating system and other programs.

Market cap is the dollar value of a company's outstanding shares. On Wednesday, Apple Inc.'s shares slipped $1.11 to close at $244.11, making its market cap about $222 billion.

But Microsoft Corp.'s stock fell $1.06, or 4.1 percent, to close at $25.01, for market cap of about $219 billion.

The only U.S. business with a higher market value is Exxon Mobil Corp. The oil company's market cap is about $279 billion, based on Wednesday's closing price of $59.31.