Fatherhood is amazing. (and exhausting.)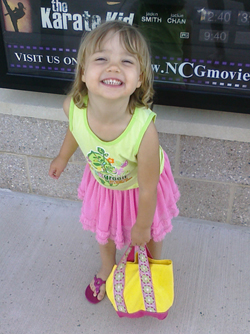 Saturday I spent nearly the whole day with Ella and it was a lot of fun. We swam at the pool, which is turning into one of Ella and Is favorite summer activities. She is getting braver every time and actually swimming her own version of the doggie paddle.
After swimming I took her to a Chinese buffet. Erin is not big on buffets, but Ella and I love 'em. On this trip we had a few incidents. Ella dropped her whole first plate of food and I blew out my flip-flop and wasn't able to walk around the restaurant. (luckily I have McGyver-like skills and fixed it.)
Then we were off to Toy Story 3 with all her friends (cousins). Ella and I had been looking forward to this movie coming out for months now. Ever since I took her to the double-feature of Toy Story 1 and 2. Ella brought a cute little bag loaded with candy and a water bottle, and then of course I still bought us a huge bucket of popcorn. She couldn't wait to tell her cousins that she brought candy and wanted to share with them.
It was a really fun father/daughter day.
Sunday, my awesome wife let me sleep in, which was great since I was up late visiting with Kevo who stopped by for the first time in like 2 years! I was happy he got to hang out with the girls in the morning for a little while, because I talk about him to Ella enough that she was excited to see him.
Then Ella came and woke me up with a "happy father's day" and an "I Love You". Here is the card my girls made me (all three of them, since mom clearly helped) :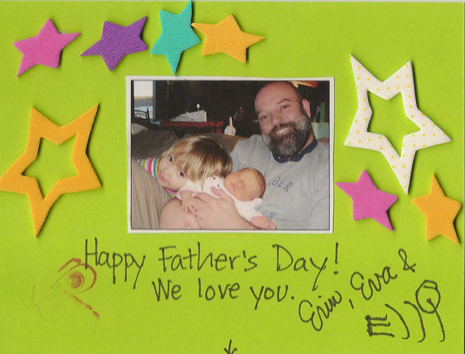 My dad sent me a father's day card of a man riding a donkey, that said "If you want to sit on your ass all day its OK, you deserve it." So I took it to heart and tried to be super lazy – but of course I still ended up doing some family stuff and working a few hours at night. But for me that's a pretty relaxing day.
And now I am eating chocolate cake and drinking really good bottled root beer – some of my sweeter father's day gifts.
Posted on
June 21st, 2010
under
Fatherhood
by Zenweezil