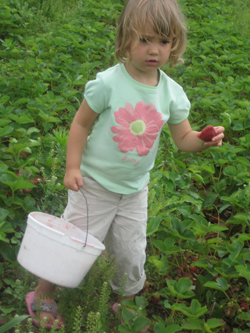 This weekend was very relaxing and family-focused, we spent a lot of time out of the house doing stuff. The first trip was strawberry picking at a farm in Leo. Ella loved it, she was very deliberate about which strawberries she would pick and which ones she would not put in her bucket.
Just as we walked back to our car it started to rain so we drove into town and ate at a cute little diner – I think it was called Leo Cafe? Anyway, food was great – I ate the MacDaddy burger – yum. The waitress tipped me in on an off-the-menu double version of this called the Bypass. Not sure I will be trying that one.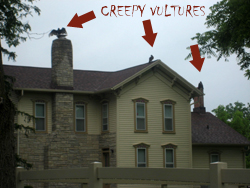 After lunch we headed home and were driving down a country road, right after the rain stopped, and we passed a house with 5 huge vultures stalking around the roof. Yes, I said vultures. They were holding their wings spread open in a very bizarre and haunting way. We ended up sitting in the road watching until cars came and then we drove off, just to turn around and go back to gawk some more.
Once we were home awhile, the sun had come back out so Ella and I took a swim in the neighborhood pool. It was just our second time there since it opened Memorial weekend, but I think the pool is going to be a regular thing for us this summer. It was really cool, when Ella discovered that she can actually stand in the shallow end on her tippy toes.
The next day, we visited some parks in Auburn – after picking up a strawberry shake for Ella – not sure where she got that idea, shes usually a vanilla girl. At the park, Ella and I enjoyed watching twigs and leafs race down the river from one side of the bridge to another – she is so into the things I love. After I was wore out of climbing on the jungle gyms and squeezing down curly slides clearly not designed for full-grown men, we retreated to the swings. Ah, is there anything better then swings? Ella and I even spider swung for some time – she wanted to go higher and higher and higher. Erin admitted that sometimes it feels like she is the mom taking all three of her kids to the playground.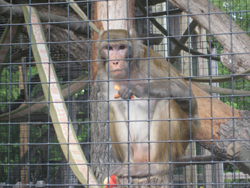 We then visited Black Pine Animal Sanctuary. I had never been there and was amazed by the place. According to their website, they are "a non-profit exotic animal sanctuary, a 'last chance' refuge for captive-raised non-domestic animals in need." Since it's out in the middle of nowhere I did not expect the variety of animals they had – lions, tigers, leopards, bears, monkeys, etc. Each animal has story of how they ended up there and why they were rescued. It's also a little different being so close to such big cats only separated by some wire fencing, we were slightly unnerved that we could be eaten at any moment. Otherwise it was great.
Afterward, we took a really long drive through Avilla, Garrett and Albion among other little towns trying to find a restaurant, but after finding four closed places we realized folks in those towns don't eat out on Sundays. I am too embarrassed to admit where we ended up eating, lets just say Ella was very "happy" to get a "meal" with a Shrek toy in it. Oh, well we tried.
So all in all, a fantastic family weekend.